Speed genomic discovery with g.nome, a cloud-native platform designed to streamline genomic workflows. Brought to market by a team of bioinformaticians, engineers and industry professionals, g.nome provides a low-code/no-code pipeline build. With a visual drag-and-drop pipeline builder that utilizes toolkits and pre-built workflows from a curated library, g.nome is giving power to researchers — enabling them to import custom code, handle big datasets reliably and optimize team collaboration from anywhere.
With g.nome, long-time barriers linked to workflow language, process flow visibility and quality control are removed. All that's left are streamlined, scalable and interoperable genomic workflows — leaving research teams to do what they do best: focus on the science.
See the Platform
Advanced Workflow Builder
Intuitive drag-and-drop GUI combined with a curated library of pre-built workflows, trusted open-source tools and the ability to import custom code makes the platform

incredibly easy to use

The low/no-code platform allows contribution without coding expertise, enabling you to

optimize team collaboration from anywhere

Accelerate pipeline development with a single platform from

proof of concept to production

Simple, visual format with visibility to all parameters makes

inconsistencies and errors easy to identify.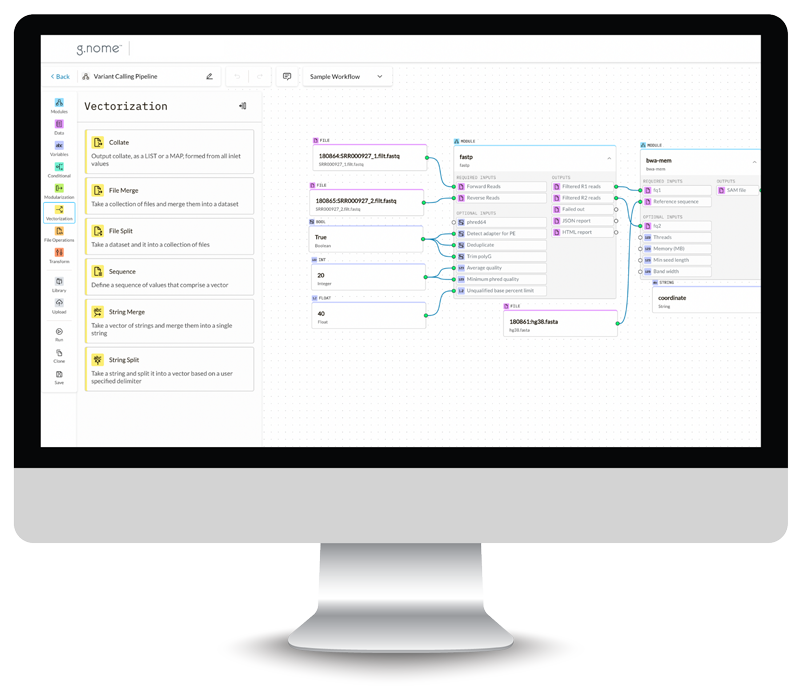 Workflow Project Management
Intuitive Workbench interface provides

unparalleled visibility

into all your projects
Customized project cards and keyword searching

enables better organization and quick data retrieval
Workspace security and administration allows you to

add new collaborators and team members seamlessly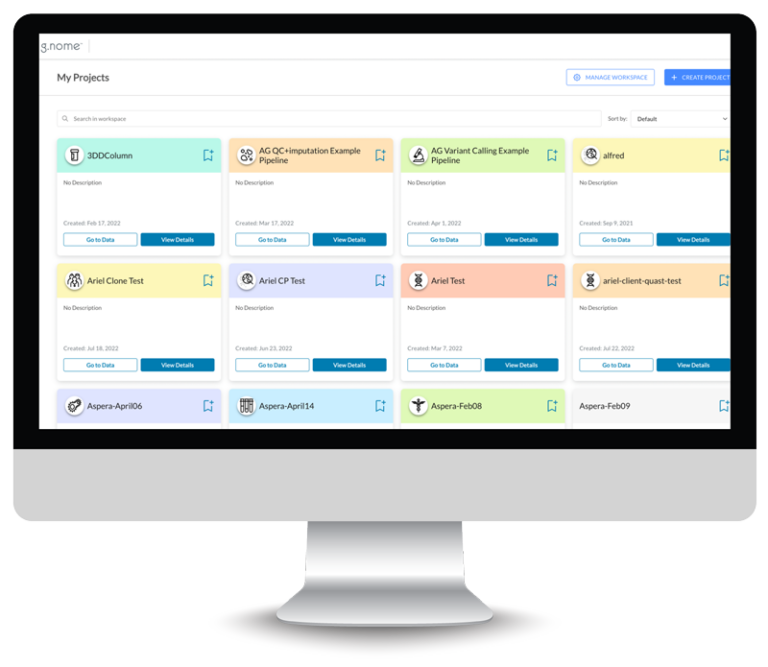 NEW! Jupyter Notebook Integration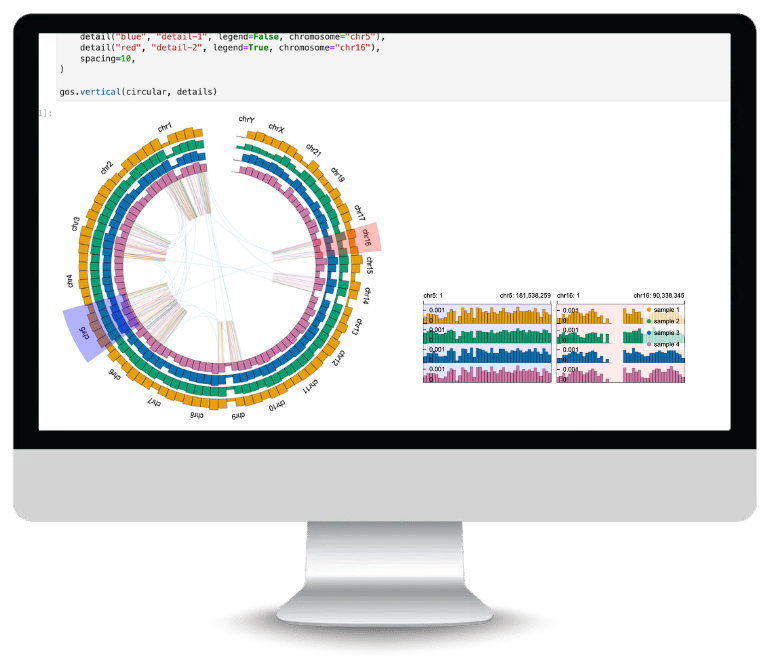 Transparency at Every Level
Individual Contributor
Stringent version control within our stable and containerized environment provides confidence that

pipelines are reliable and reproducible
Regulator
Visibility to every tool, every version and every parameter ensures

detailed pipeline auditability
Systematic tracking assures

data provenance

for every pipeline run output
Administrative user
Granular cost tracking at a run and project level gives users and organizations
insights into their spending and control over their budgets
Secure authentication and authorization using

role-based access control (RBAC) and audit tracking

of privileged access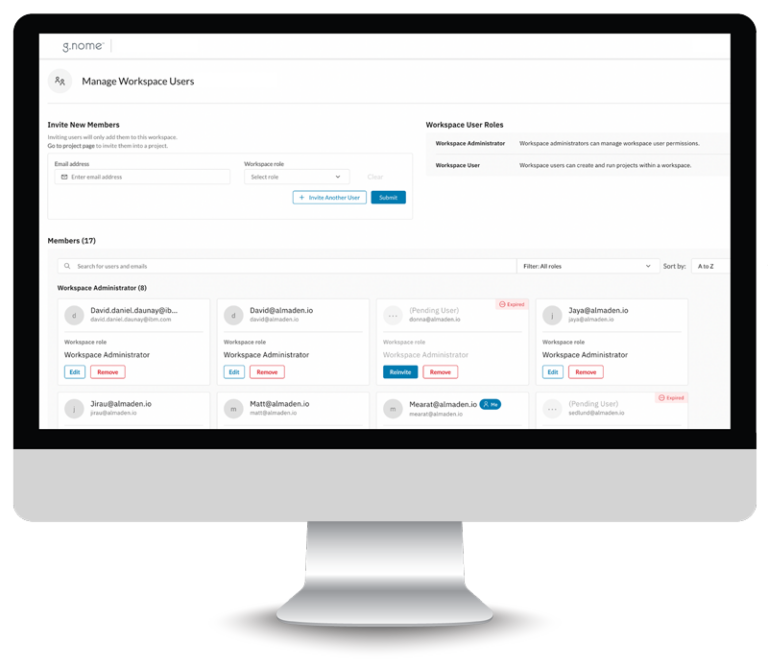 Built-In Cloud-Native Infrastructure
Automatic scalability and proven cloud-computing architecture processes large-scale datasets with great efficiency
Elastic processing capabilities allow you to optimize your run and assign increased computational power to pieces of your pipeline at a granular level
Security and Compliance: The security of your data is our highest priority. We employ industry standard best practices for enterprise cloud security throughout the system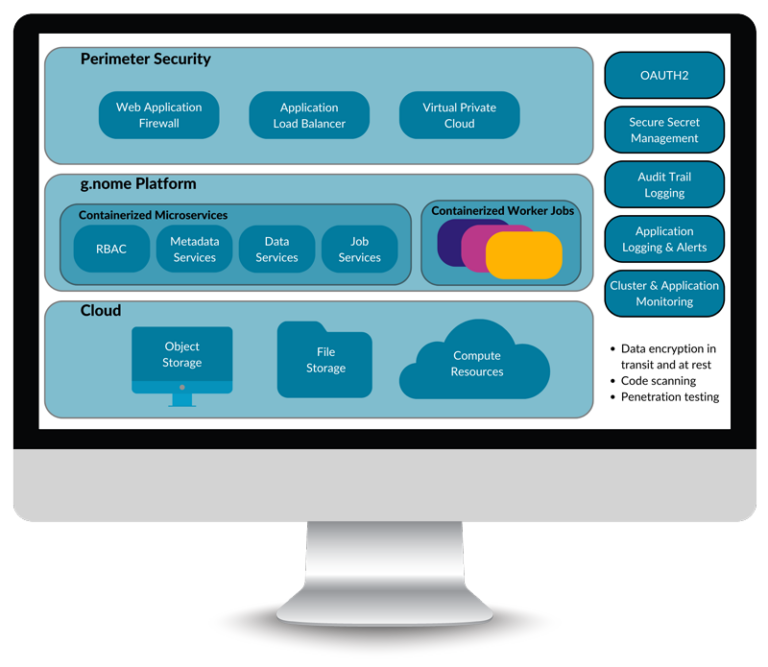 Get a Free Trial