ACCELERATING THE PACE OF
GENOMIC INNOVATION
and the delivery of precision health for us all.
See The Platform
BREAKING BARRIERS FOR
SCIENTIFIC DISCOVERY
by democratizing the analysis of exploding genomic datasets.
EMPOWERING
RESEARCH & ALLIANCE
for rapid iteration at the speed of innovation.
Speed Time to Discovery
Condense what takes months to hours with a visual drag-and-drop pipeline builder, utilizing toolkits and pre-built workflows from our curated library.
Optimize Your Team
Your bioinformatician can focus on driving discovery and solving problems. Team members without coding knowledge can contribute to pipeline building from anywhere.
The Power is Yours
Our open and transparent platform allows flexibility to import existing custom code in conjunction with open-source tools, and handles big data sets reliably and efficiently.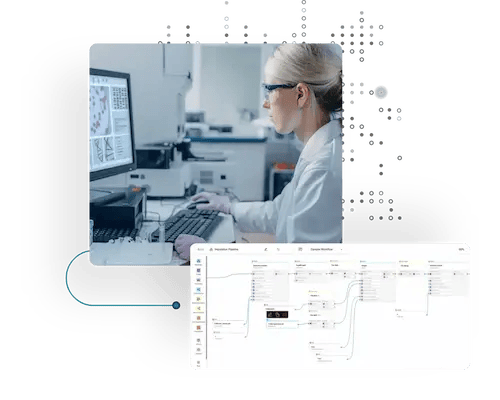 INTRODUCING

A cloud-native bioinformatic software that accelerates research teams through streamlined, scalable, and interoperable genomic workflows. With a wide selection of bioinformatic tools and databases coupled with robust version control for your modules and pipelines, your entire team can quickly drag, drop and connect processes to create a simple visual representation of your workflow.
With g.nome, barriers linked to workflow language, process flow visibility and quality control are removed. All that's left are streamlined genomic workflows that allow research teams to do what they do best: focus on the science.
Contact Us
g.nome delivers
"The g.nome platform has been a game changer for us. We have been able to acquire customers and scale our business more quickly by providing results to our customers in a fraction of the time it used to take. My team really likes the easy graphical interface and toolkits, and we can now deliver reliable production pipelines in a matter of days not months. It is helping us move at the speed of our own innovation, and that is priceless."
See Case Study
BREAK THROUGH BARRIERS WITH

SCHEDULE A PERSONALIZED DEMO OF OUR PLATFORM