CURIOUS TO TRY ?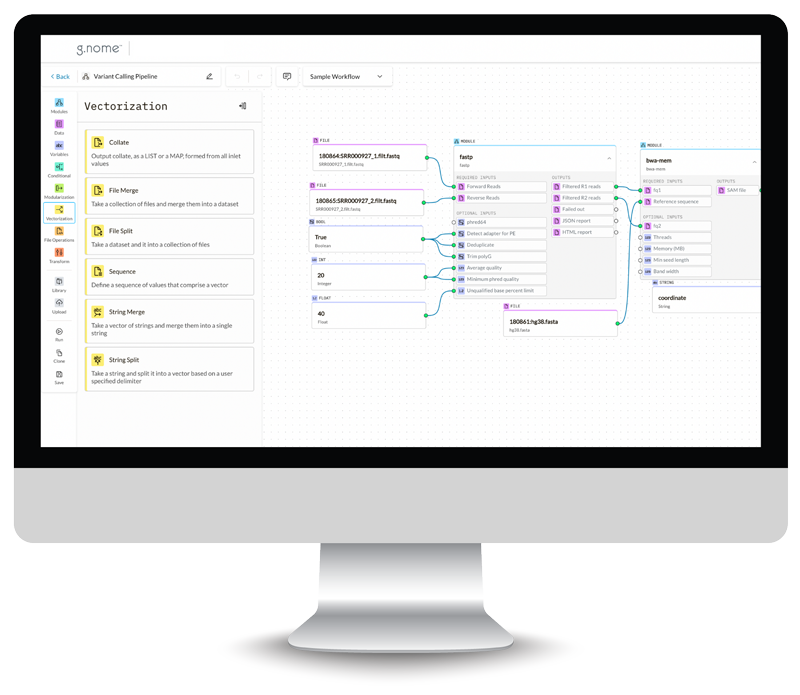 DESIGN, BUILD AND RUN
POWERFUL DATA ANALYSIS WORKFLOWS IN HOURS VS. MONTHS
Featuring an easy-to-use GUI workflow builder with strong iteration, version control and data provenance capabilities, g.nome™ is a cloud-native drug discovery platform designed to enable scientists and bioinformaticians to collaborate more effectively in high-throughput sequencing data analysis.
WHAT YOU GET:
14-day access

to explore key features of the g.nome platform,

completely free

. Some things you may want to try:
Create a new project and workflow using
one of our readily available pipelines
and test data, including:
Bacterial Assembly (Tool Version: v1.0.1)
RNAseq (Tool Version: v1.0.1)
Variant-Calling – Germline (Tool Version: v1.0.1)
Create a workflow from scratch
by choosing from over 100 tools from the g.nome library, featuring common popular tools such as bbmap, bowtie, beagle, picard and bwa-mem
Run pipelines with test data or your own
(up to 50MB, local upload only), and modify the pipeline to suit your needs.
See HTML reports
for certain tools (such as fastp or fastqc) when the workflow is run.
Save and export results to your local environment to
see how it works in your own tertiary analysis.
WANT MORE?
UNLOCK THE FULL POWER OF
If you are interested in exploring g.nome's full capabilities, including importing custom tools, connecting your own cloud data buckets via Aspera or S3, or visualizing your data by intergrating with Jupyter Notebook, email us at info@almaden.io to explore our pilot options.